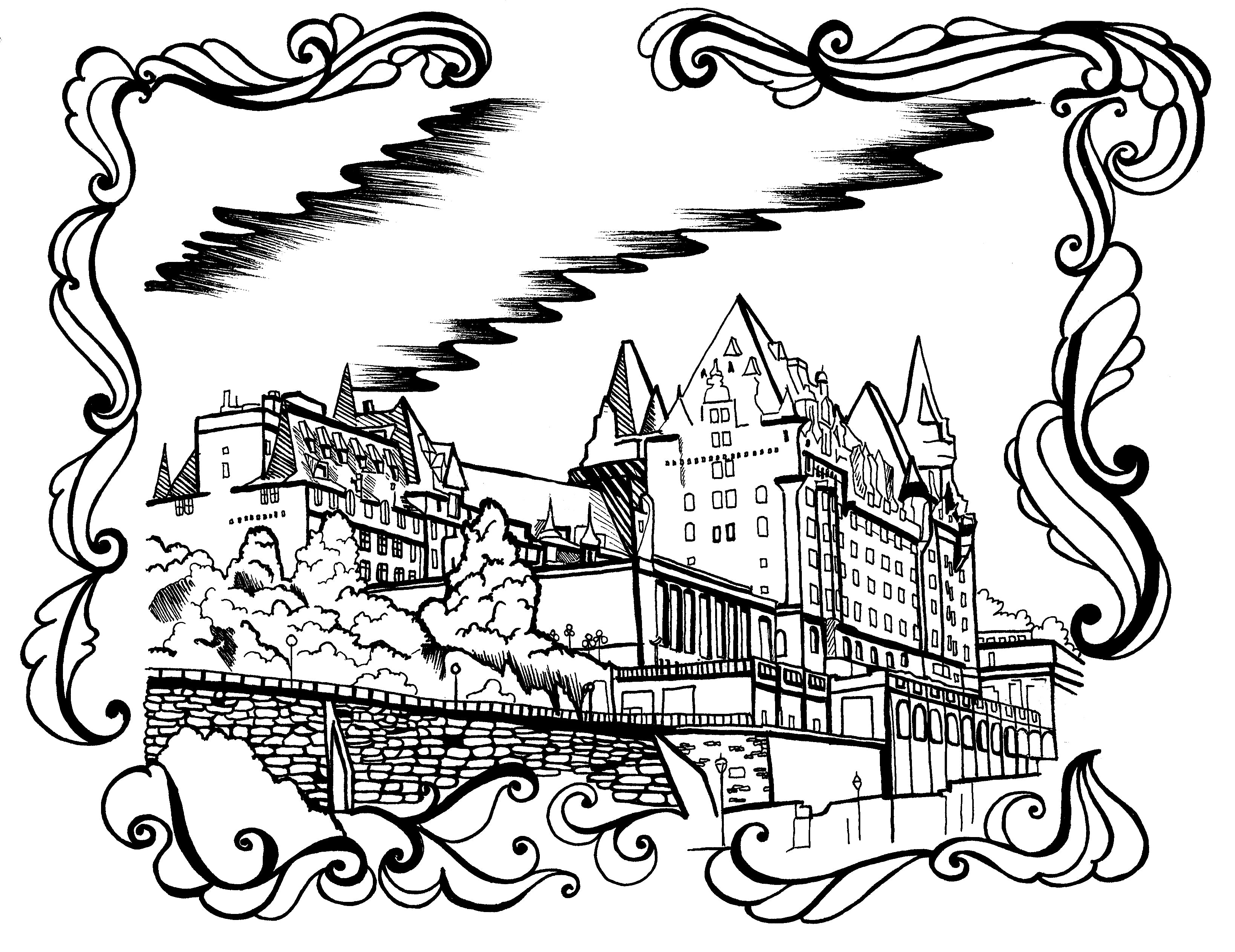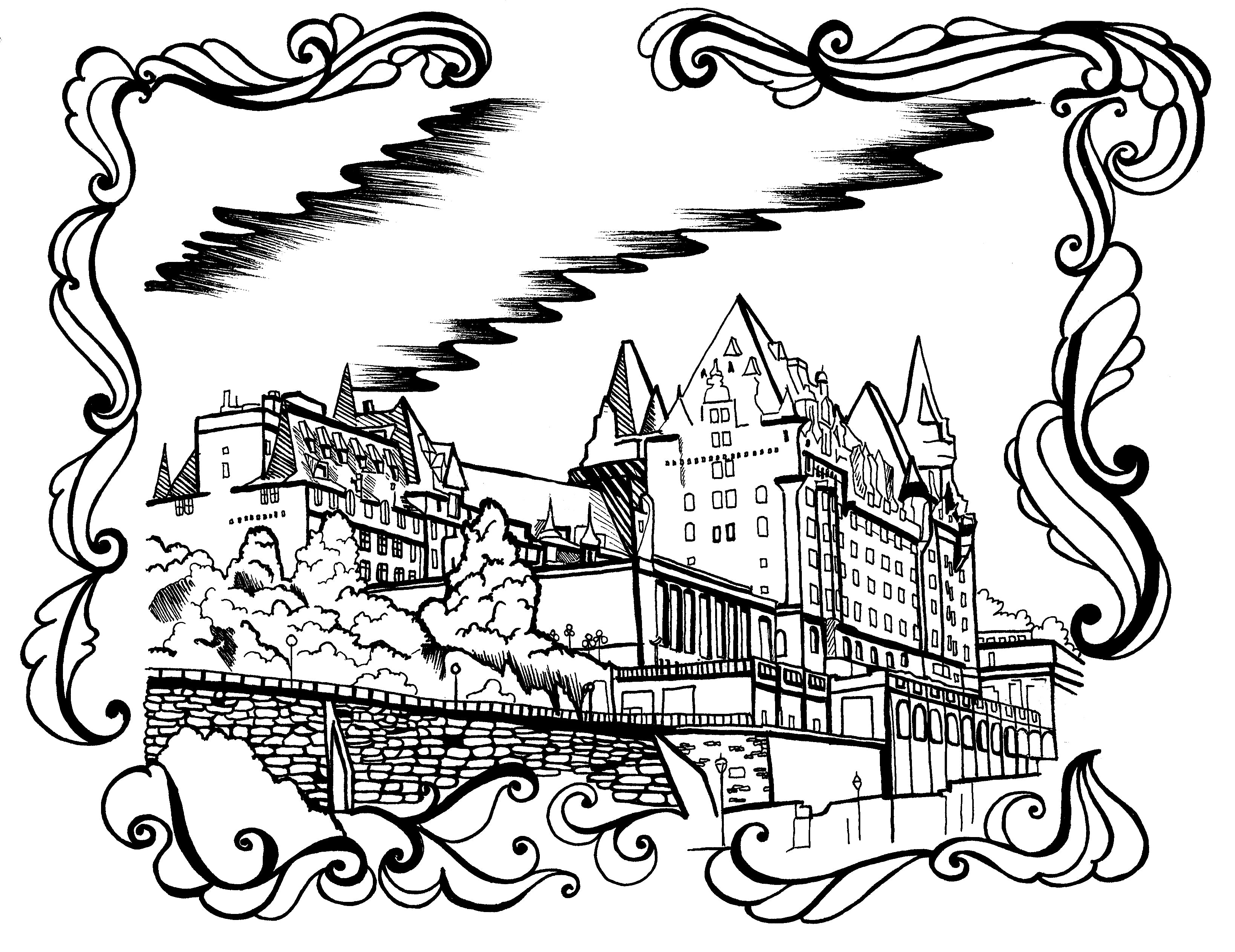 Fairmount Chateau Laurier, Ottawa, Ontario, Canada
Fairmount Chateau Laurier, Ottawa, Ontario, Canada - free coloring page
Fairmont Château Laurier is a very big and beautiful hotel found in the capital city of Canada, Ottawa. It has a surface of 660,000 square feet (61.000 square meters) and a total capacity of 429 rooms. It is located downtown and it's one of the landmarks of the city. 
It was designed and built in a French Gothic Revival Châteauesque style, and it fits very well along with the Parliament buildings found nearby. It was opened in 1912 and declared a national historic site in 1980. 
It offers luxury accommodation in the center of the city, with all the needed amenities, so don't expect the prices to be small. You can choose between guest rooms, suites and Fairmont Gold, which are the most beautiful rooms. 
It includes childcare services, bells services, a concierge desk, wireless high-speed internet, a business center, daily housekeeping, dry cleaning and laundry services, parking, wheelchair accessibility, gift shops, five elevators, as well as safe deposit boxes. Pets are accepted for an extra fee. 
But this is not all! The Fairmont Château Laurier also includes a health club and fitness center, a spa and multiple restaurants. The hotel is also hosting meetings, conferences and various events, as well as weddings.  
It is designed as a sustainable business with a water conservation program, an energy management system and a program for waste and recycling. From this beautiful hotel, you can easily get to some of the major touristic attractions in the city. 
So, if you ever visit Ottawa, take some time to admire the architecture of this historic monument during your visit. For now, you can relax and color this illustration. If you want to discover other monuments and historical places in the world, do not hesitate to visit our site and print the places that inspires you to color.  You can also check out our awesome coloring books !
Fairmont Château Laurier 
Fairmont Château Laurier est un très grand et magnifique hôtel situé dans la capitale du Canada, Ottawa. Il a une superficie de 660 000 pieds carrés (61 000 mètres carrés) et une capacité totale de 429 chambres. Il est situé au centre-ville et c'est l'un des points de repère de la ville. 
Il a été conçu et construit comme un château de style néo-gothique français, et il s'intègre très bien avec les édifices du Parlement qui se trouvent à proximité. Il a été inauguré en 1912 et déclaré lieu historique national en 1980. 
Il propose un hébergement de luxe au centre de la ville, avec toutes les commodités nécessaires, alors ne vous attendez pas à ce que les prix soient bas. Vous pouvez choisir entre les chambres d'hôtes, les suites et Fairmont Gold, qui sont les plus belles chambres. 
Il comprend des services de garde d'enfants, des services de sonnerie, un bureau de conciergerie, une connexion Internet haute-vitesse sans fil, un centre d'affaires, un service de ménage quotidien, des services de nettoyage à sec, un service de stationnement, l'accessibilité aux fauteuils roulants, des boutiques de cadeaux, cinq ascenseurs, ainsi que des coffres-forts. Les animaux sont acceptés moyennant un supplément. 
Mais ce n'est pas tout! Le Fairmont Château Laurier comprend également un club de santé et un centre de conditionnement physique, un spa et plusieurs restaurants. L'hôtel accueille également des réunions, des conférences et divers événements, ainsi que des mariages. 
Ce merveilleux monument est conçu comme une entreprise durable avec un programme de conservation d'eau, un système de gestion de l'énergie et un programme de déchets et de recyclage. De plus, vous pourrez facilement vous rendre à certaines des principales attractions touristiques de la ville. 
Donc, si jamais vous visitez Ottawa, prenez le temps d'admirer l'architecture de ce lieu historique lors de votre visite . pour le moment vous pouvez relaxer et colorier cette illustration.  Si vous voulez découvrir d'autres monuments et endroits historiques dans le monde, n'hésitez pas à visiter notre site et imprimer l'endroit qui vous inspire à colorier. Vous pouvez également y consulter nos superbes livres à colorier!
Toutes les images artistiques de You-Color.com sont protégées par les droits d'auteurs et sont destinées à un usage personnel uniquement.