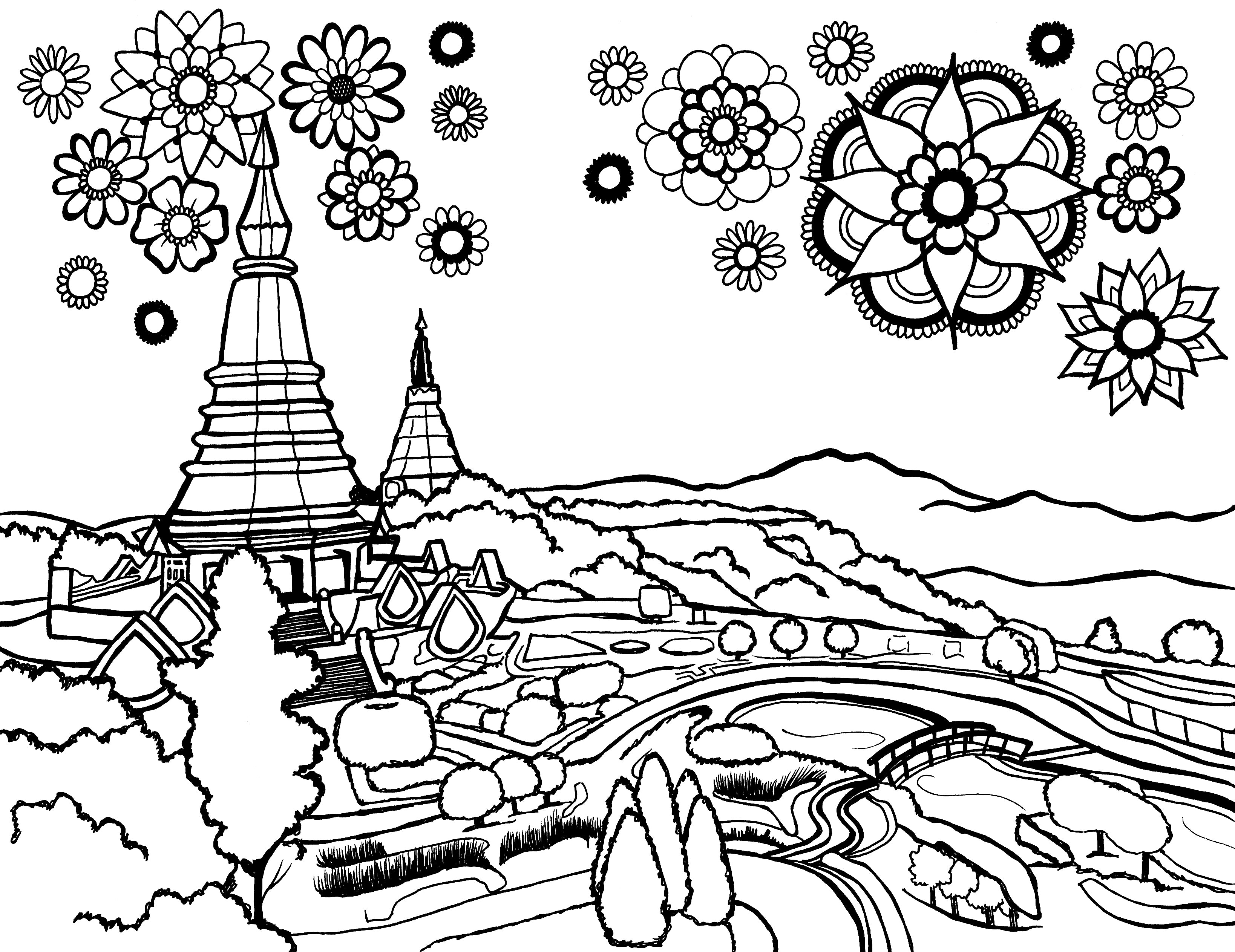 Chian Mai, Bangkok, Thailand
Chian Mai, Bangkok, Thailand - free coloring page
Chiang Mai is the largest city in the northern part of Thailand, as well as the capital of the Chiang Mai Province. It has a population of around 130,000 residents and an area of around 40,000 square km (15.000 square miles). It is a paradise for tourists and shoppers, and it's also surrounded by wonderful hills and mountains. 
The name translates to "New City" and it was founded way back in 1296. Thanks to its location on the Ping River and close to important trading routes, it was an important location in Thailand over the centuries.
 In the city, you will find some amazing temples, buildings and museums, as well as parks, gardens, hotels, spas and everything you might possibly need for an amazing vacation. The city of Chiang Mai is very rich in culture, while nearby you will find the tallest mountain in Thailand as well as tribal villages and national parks.
 In this area, you will also find Doi Suthep, which is one of the most important places in Thailand in regards to history and spirituality. The old city is basically an outdoor museum with beautiful temples and very old historical buildings surrounded by ancient walls. The place is not that big either, which means that you can easily walk and admire everything on foot. 
Other places that are a must-see are the Chiang Mai Night Safari, the Underground Ancient City Wiang Kum Kam, the Elephant Jungle Sanctuary, the Doi Inthanon National Park, the Doi Pui Tribal Village and the Lanna Folklife Museum.  
So if you ever visit Thailand, enjoy visiting Chiang Mai and bring back souvenirs. Meanwhile, if you feel like relaxing, the activity of coloring is great to get a sense of meditation.
You can also get these awesome coloring books  on other cities available to you via our website.

All art from You-Color.com is copyrighted and is for personal use only.
Chiang Mai est la plus grande ville du nord de la Thaïlande, ainsi que la capitale de la province de Chiang Mai. Elle a une population d'environ 130 000 habitants et une superficie d'environ 40 000 km² (15 000 miles carrés). C'est un paradis pour les touristes et les acheteurs. Chiang Mai est également entouré de magnifiques collines et montagnes. 
Le nom se traduit par "Nouvelle ville" et la ville a été fondée en 1296. Grâce à son emplacement sur la rivière Ping et à proximité d'importantes routes commerciales, c'était un lieu important en Thaïlande au cours des siècles. 
Dans la ville, vous trouverez des temples, des bâtiments et des musées incroyables, ainsi que des parcs, des jardins, des hôtels, des spas et tout ce dont vous pourriez avoir besoin pour des vacances incroyables. La ville de Chiang Mai est très riche en culture, tandis qu'à proximité, vous trouverez la plus haute montagne de Thaïlande ainsi que des villages tribaux et des parcs nationaux. 
Dans cette zone, vous trouverez également Doi Suthep, qui est l'un des endroits les plus importants de Thaïlande en ce qui concerne l'histoire et la spiritualité. La vieille ville est essentiellement un musée en plein air avec de beaux temples et de très vieux bâtiments historiques entourés de murs anciens. L'endroit n'est pas grand non plus, ce qui signifie que vous pouvez facilement vous promener et tout admirer à pied. 
D'autres endroits à ne pas manquer sont le safari nocturne de Chiang Mai, l'ancienne ville souterraine Wiang Kum Kam, le sanctuaire de la jungle des éléphants, le parc national de Doi Inthanon, le village tribal de Doi Pui et le musée Lanna Folklife. 
Donc, si jamais vous visitez la Thaïlande, profitez-en pour visiter Chiang Mai et rapportez des souvenirs de cette magnifique ville enchantée. Pendant ce temps, si vous voulez vous détendre, vous pouvez imprimer cette page et comme activité de relaxation, colorier; C'est comme pratiquer la méditation.

Vous pouvez également vous procurer ces superbes livres à colorier sur d'autres villes via notre site Web.
Toutes les images artistiques de You-Color.com sont protégées par la Loi sur le droit d'auteur et sont destinées à un usage personnel uniquement.