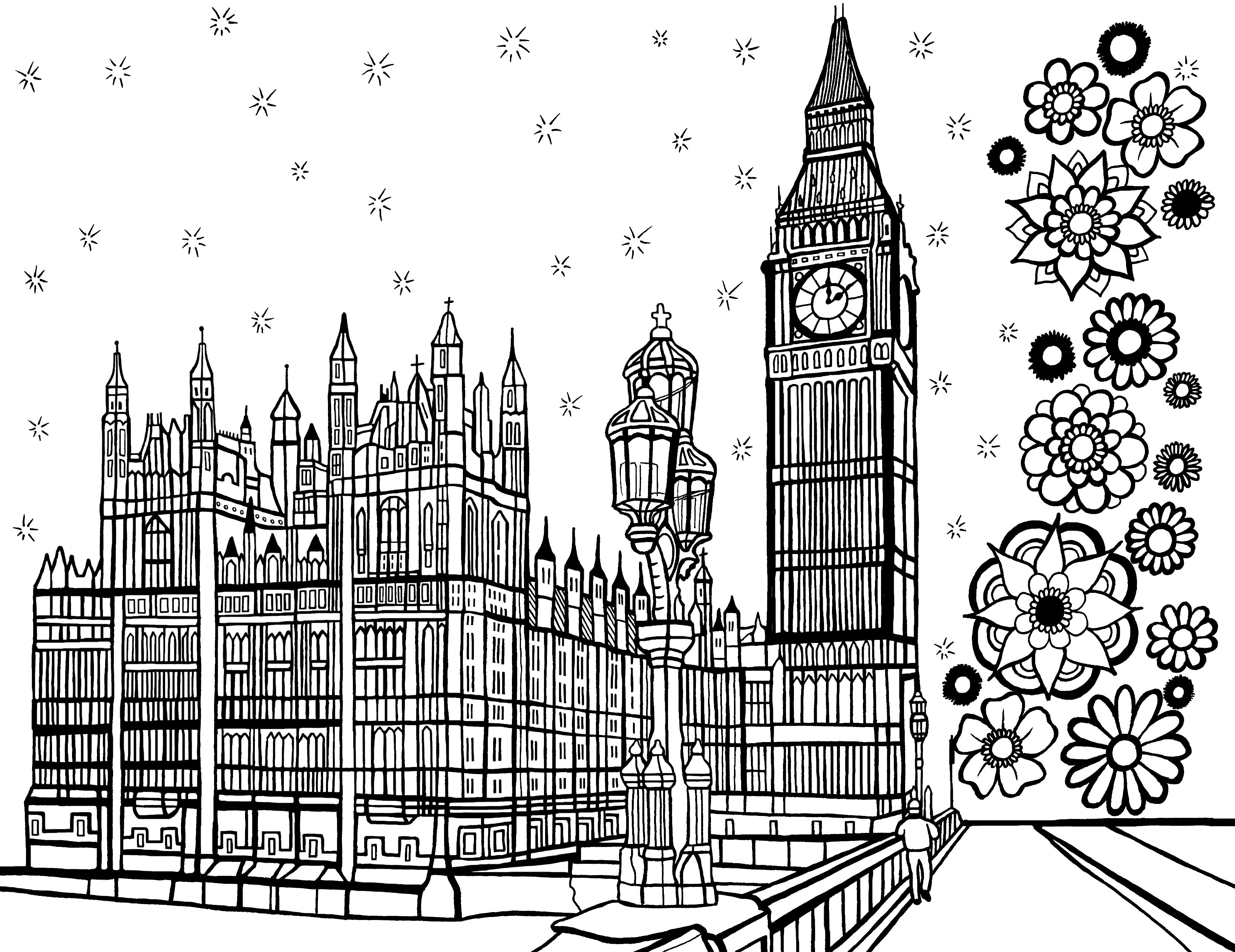 Big Ben and the Parliament, London, England on a FREE Coloring page
Big Ben on a Free Coloring Page
Big Ben: A Symbol of London's Heritage Embark on a historical journey with our free coloring page featuring Big Ben, the iconic clock at the north end of the Palace of Westminster in London. More than just a clock, Big Ben is a symbol of the city's enduring spirit, encapsulated in neo-gothic architecture completed in 1859.
The Grandeur of the Great Bell Big Ben, or the Great Bell, was once the world's largest and most accurate four-faced striking clock. Standing at 316 feet (96 meters), the journey to its top involves a climb of 334 steps. Our coloring page invites you to explore the intricate details of this architectural marvel, including the 22.5-foot diameter clock dials adorned with symbols representing the UK's four nations.
A Musical Clock Tower For music enthusiasts, the coloring page offers a chance to visualize Big Ben's unique musicality. The large bell chimes the note E every hour, while the quarter hours are marked by the harmony of four smaller bells. This aspect adds an auditory dimension to your coloring experience.
Exclusive Tours and Sonic Phenomena While tours of the Elizabeth Tower are limited to UK residents, our coloring page brings Big Ben's majestic presence to you. Delve into the fascinating phenomenon where the chimes are heard first on radio due to the faster speed of radio waves compared to sound.
Big Ben: A Tower of Facts
Foundation laid in 1843, with completion in 1859.
Home to a prison cell for disorderly Members of Parliament.
Reliable chimes ringing every 15 minutes since the 19th century.
Accessible via Westminster Tube, a central point in London's transport network.
Officially named the Elizabeth Tower in 2012, yet affectionately known as Big Ben.
The bell weighs over 13 tons, and the tower reaches 96 meters in height.
Big Ben withstood World War II bombings, with only minor decorative damage.
Each clock face is illuminated by 23 light bulbs, lasting nearly 7 years.
The chimes were first broadcasted on radio in January 1924, becoming a New Year and Remembrance Sunday tradition.
Undergoing major renovations since 2017, with the chimes silenced during this period.
Coloring as a Gateway to History While you await the chance to visit or hear the chimes of Big Ben, our coloring page offers a relaxing and informative way to connect with this London icon. Discover more about Big Ben's history with additional resources like the History Channel.