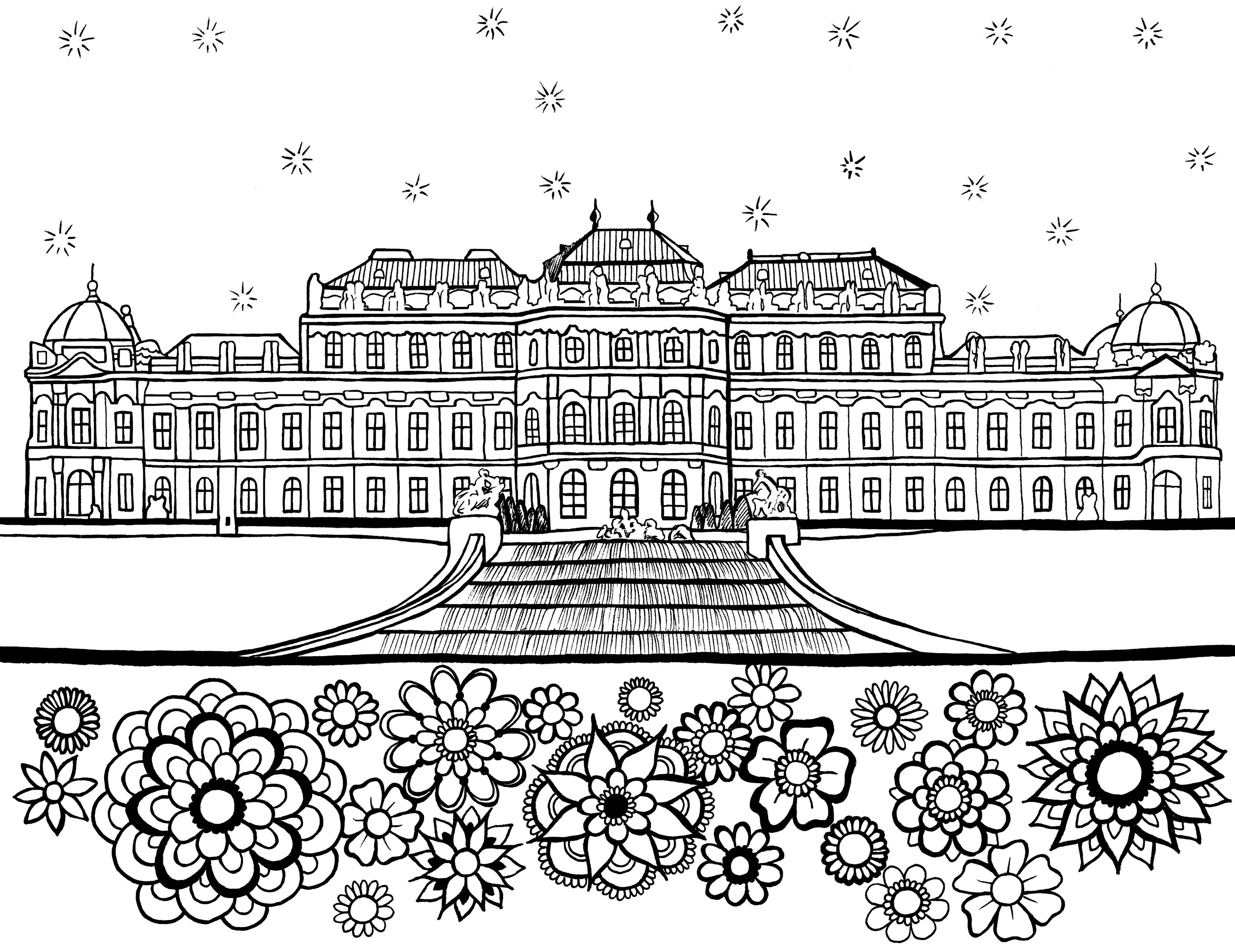 Belvedere Palace, Vienna, Austria
Belvedere Palace, Vienna Austria - Free Coloring Page
This amazing historic building located in Vienna includes two Baroque palaces called the Upper and the Lower Belvedere, the Belvedere Museum, an Orangery and the Palace Stables. It was built as a summer residence for Prince Eugene of Savoy, and the construction started in 1712. 
It is an impressive place that really deserves a visit at least once in a lifetime, which includes wonderful sculptures, fountains, plants and hundreds of years of national art. You will be astonished by the sculptures right when entering Sala Terrena, where you will notice four huge Atlases that carry the enormous vaults of the hall. One of the Atlases actually collapsed shortly after the palace was completed, and the architect had to reconstruct the room. 
The Marble Hall stretches over two levels and includes a large oval ceiling that includes some stunning paintings of celestial beings. The Carlone Hall is another splendid part of the building, and it includes three large frescoes that are covering the walls and ceiling. Here, you will admire muscular men in acrobatic poses, ladies covered in flower garments and chubby cherubs holding flower baskets or spilling water. 
The Lower Belvedere is the oldest of the two buildings and it was used for living until the other one was finished, and then for receiving guests. This building too is filled with beautiful sculptures and lovely ornaments. The Baroque Gardens found at the palace are actually some of the best in Europe, and they too deserve a visit. 
This wonderful place is a must-see, not just for people passionate about art or history but also for anyone who wants to witness something beautiful and unique. Until you get the chance to visit the real Belvedere Palace in Vienna (Austria), we offer you this illustration to color. You can even put it on your vision board if you want to visit it one day!  :)   
Also, don't forget to check out our awesome coloring books and make sure to visit regularly to see new books that will appear regularly. 
All art images from You-Color.com are copyrighted and are intended for personal use only. 
Cet incroyable bâtiment historique situé à Vienne, comprend deux palais baroques appelés le Belvédère supérieur et inférieur. De plus, on peut y voir, le musée du Belvédère, une orangerie et les écuries du palais. Il a été construit comme résidence d'été pour le prince Eugène de Savoie et la construction a commencé en 1712.

C'est un endroit impressionnant qui mérite vraiment une visite au moins une fois dans sa vie et qui comprend de magnifiques sculptures, des fontaines, des plantes et des centaines d'années d'art national. Vous serez étonné par les sculptures dès l'entrée de Sala Terrena, où vous remarquerez quatre immenses atlas qui portent les énormes voûtes de la salle. L'un des atlas s'est effondré peu de temps après l'achèvement du palais et l'architecte a dû reconstruire la pièce.

La salle de marbre s'étend sur deux niveaux et comprend un grand plafond ovale qui comprend de superbes peintures d'êtres célestes. Le Carlone Hall est une autre partie splendide du bâtiment, et il comprend trois grandes fresques qui recouvrent les murs et le plafond. Ici, vous pourrez admirer des hommes musclés dans des poses acrobatiques, des dames couvertes de vêtements de fleurs et des chérubins potelés qui tiennent des paniers de fleurs ou ils versent de l'eau.

Le Belvédère inférieur est le plus ancien des deux bâtiments et il servait à vivre jusqu'à ce que l'autre soit terminé, puis à recevoir des invités. Ce bâtiment est également rempli de belles sculptures et de jolis ornements. Les jardins baroques du palais sont en fait parmi les meilleurs d'Europe et méritent eux aussi une visite.

Cet endroit merveilleux est un incontournable, non seulement pour les passionnés d'art ou d'histoire, mais pour tous ceux qui souhaitent assister à quelque chose de beau et unique. Jusqu'à ce que vous ayez la chance de visiter le vrai palais du Belvédère à Vienne en Autriche, vous pouvez colorier cette illustration et laissez-vous emporter par la magie de l'histoire! Si vous l'affichez sur votre 'vision board' (tableau de bord avec ce que vous souhaitez dans votre vie), vous aller certainement le faire ce voyage. 
Cela dit, n'oubliez pas de consulter nos superbes livres à colorier et assurez-vous de  visiter notre site régulièrement pour voir les nouveaux livres qui y seront affichés.
Toutes les images artistiques de You-Color.com sont protégées par les droits d'auteurs et sont destinées à un usage personnel uniquement.