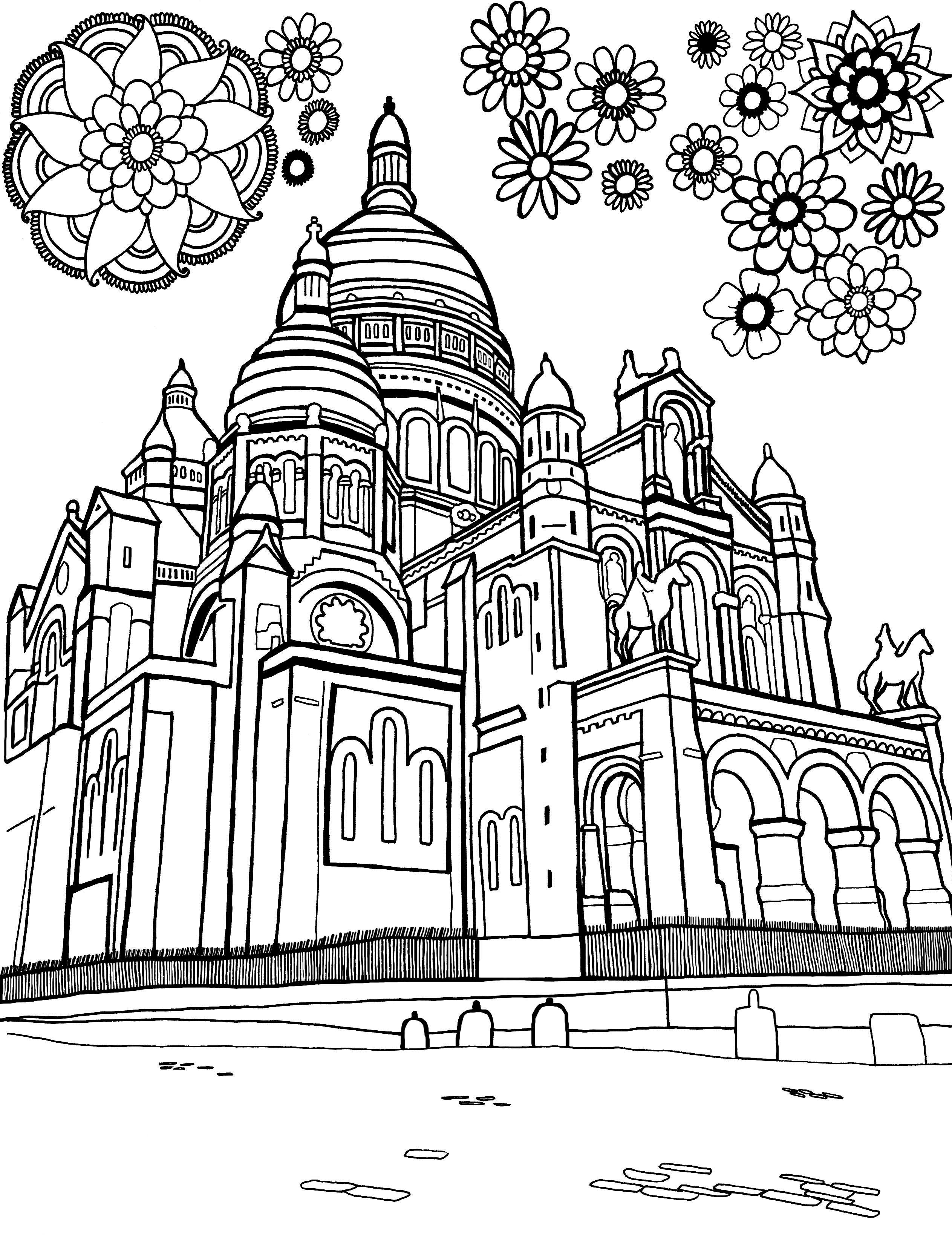 Basilique du Sacré Coeur de Montmartre, Paris, France
Basilique du Sacré Coeur de Montmartre, Paris, France - free coloring page
This impressive monument is mostly called Sacré-Coeur. The long English translation would be "the Basilica of the Sacred Heart of Jesus", but whatever you call it, this is an amazing place to visit in Paris.

Located on the hill of the Montmartre district, it is the highest point in the city after the Eiffel Tower. It is also the second most visited monument in the city of Paris, attracting millions of visitors each year.

It was a place of worship long before the church was built. The devotees believed they would be closer to God at the top of the hill.

The architecture is splendid and the style is Romano-Byzantine, inspired by the churches of Venice and Constantinople. The construction was funded by Christians from all over France. Through many years of generous donations, the names of those who donated are actually carved on the walls of the entire church.

The church's goal was to protect the French people, but they also went there to be forgiven for their sins. The Basilica has one of the biggest and heaviest church bells in the world, which weighs around 19 tons. These were dragged by 21 horses all the way up that hill.

If you ever visit Paris, enjoy a tour of this magnificent Basilica. It will definitely impress you. Meanwhile,  you can relax and color this illustration. 
All illustrations provided by You-Color.com are copyrighted and are for personal use only.
Basilique du Sacré-Cœur de Montmartre

Ce monument impressionnant est plus souvent appelé Sacré-Cœur. Elle se nomme  "la Basilique du Sacré-Cœur de Jésus", mais peu importe comment vous l'appelez, c'est un endroit incroyable à visiter à Paris.

Située sur la colline dans le quartier Montmartre, c'est le point culminant de la ville après la Tour Eiffel. C'est aussi le deuxième monument le plus visité de la ville de Paris, attirant des millions de visiteurs chaque année.

C'était un lieu de culte bien avant la construction de l'église. Les fidèles croyaient qu'ils avaient le sentiment d'être plus près de Dieu au sommet de la colline.

L'architecture est splendide et le style est romano-byzantin, inspiré des églises de Venise et de Constantinople. La construction a été financée par les chrétiens de toute la France, grâce à de nombreuses années de dons généreux. Les noms de ceux qui ont fait ces dons, sont gravés sur les murs de toute l'église.

L'un des objectifs de l'église était de protéger le peuple français. Ceux-ci s'y rendaient également pour se faire pardonner leurs péchés. Un autre fait amusant à ce sujet est que la Basilique possède l'une des cloches d'église les plus grandes et les plus lourdes au monde. Elle pèse environ 19 tonnes. Il a fallu 21 chevaux pour trainer cette cloche au sommet de la colline.

Si jamais vous visitez Paris, offrez-vous une petite visite de la Basilique du Sacré-Cœur de Montmartre; elle vous charmera et vous impressionnera. D'ici là, vous pouvez colorier cette illustration tout en relaxant. 
Toutes les illustrations de You-Color.com sont protégées et sont destinées à un usage personnel uniquement.