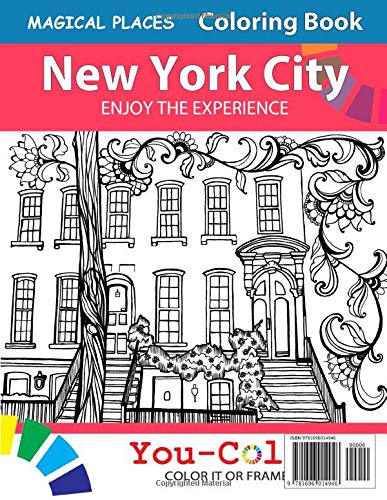 Big New York City Coloring Book: Magical Places Coloring Book
EAN: 9781696014946
Package Dimensions: 11.0 x 8.5 x 0.2 inches
Languages: English
Details: This BIG New York City Coloring Book has 96 pages of original landmark illustrations and traveler information to delight artists, historians, and tourists alike. You've heard about it in many movies and songs. New York is one of the most popular places on Earth. It's also the largest metropolitan area and is home to 21 million people that speak over 200 languages. You can discover this magical city while coloring the art pages of this beautiful book while relaxing through this activity. You will also learn historical and fun facts about different neighborhoods in the city. It has some of the best restaurants, theatres, museums, cultural and park activities and so much more. We reveal some of the best neighborhoods in New York City, such as Greenwich Village, Soho-Tribeca, Upper East Side, Lower Manhattan, and the Financial District. Enjoy coloring and learning about this beautiful and magical city with this acclaimed coloring book from YouColor. Learn more about the Big New York City Coloring Book.
Enjoy original art depicting some of New York's celebrated neighborhoods, including;
Lower Manhattan and the Financial District - This is the oldest part of the city and it is surrounded by many skyscrapers that dwarf the remaining historic sites. Some of the top places that you can visit here are the 1 World Trade Center or the 9/11 Memorial and Museum. The area is a tourist hotspot as it is filled with hotels, restaurants, and new shops that you can go to.
Tribeca and SoHo - While their names sound cool and unusual, they are actually acronyms for Triangle Below Canal and South of Houston. They are both former warehouses that have been reborn, and Tribeca is now popular for its film festival, fine dining that attracts the rich and famous, and pricey loft apartments.
Greenwich Village - This area is home to magnificent 19th-century townhouses where popular writers, artists, and musicians used to live. It's also a hotspot for young people and it features one of the liveliest park spaces in the city, cafes, and hotel options.
Upper East Side - You are going to find some of the wealthiest residences in the city in this serene area, and it also homes the Museum Mile which includes the Metropolitan Museum of Art. The area also borders two green oases which are Central Park in the west and the Carl Schurz Park along the East River.